I love deadlines - I like the sound they make as they fly past
Give me a blank page or screen and I can stare at it for hours. It's no use fighting it; I know the spark of inspiration will come and when it does, I'm up and away.
My writing comes in various guises from Twitters and scribbled musings in my Moleskine to articles, reviews, opinion pieces, marketing and web copy and major reports.
Current and recent writing includes work for:
Time Out City Guide to Brussels, Antwerp, Ghent, Editor and writer

Time Out, Europe by Air

Independent Theatre Council, Guide to UK Performing Arts

Canadian High Commission, UK Theatre Industry Guide

UK Trade & Investment, Performing Arts Export Guide

Expatica.com

Arts Council England

The Stage

Arts Professional

BA High Life

Brussels Airlines B Spirit! and B There!

The Bulletin, Brussels
Finally, if you're looking for someone to make sense of a pile of notes, draw together ideas, write a newsletter or sort out your marketing brochure or web presence, then please get in touch. I'm handy with a computer. And I do meet deadlines.

---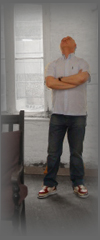 still looking . . .
Published in expatica.com
The Big One-Four-O
It's not often I get excited about celebrating a theatre's birthday. Even the Royal National in London only got a passing acknowledgement when it hit 25. You see, there's a difference between the age of a building and the maturity of an institution. And this is why the Théâtre 140 in Brussels warrants a slice of the cake in its 40th year.
From the outside it looks like a community hall, uninspiring and 60s bleak. But I can well remember - as a new producer in town - the first time I walked into the empty auditorium, thick with voices and ideas from the past, challenging me to add another layer to its history. Rows of black vinyl seats, hastily repaired with gaffer tape; a red ciggie-burned carpet, testimony to pre no-smoking days; the voluminous stage, deep and dark. It was perfect. But I hadn't reckoned on Jo Dekmine, the theatre's shock-haired, shock-effect founder.
Now in his 73rd year, Jo works with his long-term business partner Renée Paduwat to help run the show. Here is a man who knows exactly what he wants, no compromise. His way of choosing his art is deeply instinctive, often controversial. Here is a man in love with the theatre, his theatre.
| | |
| --- | --- |
| The 140 is Jo Dekmine. Back in 1963, he persuaded the local Catholic church to allow him to use their new 500-seat meeting place as a theatre between times. Jo has always been a man with a mission and used his savvy to start getting names on stage, both theatrical and musical. | |
He still glows with pride when he tells you Pink Floyd appeared here in 1968, but that's only the start of the roll-call: Queen, Frank Zappa, Johnny Rotten, Peter Brook, Dario Fo, Pina Bausch, Blondie and, more recently, Jaques Higelin and Jane Birkin have all passed backstage.
But you may still be wondering why this birthday is so worthy of mention. It's difficult to think of any other theatre that has a similar character, both in its kitsch, sometimes down-at-heel appeal and in its startling programme of work. You see, the 140 is a true Brussels phenomenon, with few rules where there are volumes of rules. In one 1968 production, actors were arrested for prancing around with giant phalluses and Jo was subsequently found guilty of offending public decency.
| | |
| --- | --- |
| | The Front-of-House rules would send Health & Safety in the UK crazy. Upwards of 400 people can cram into the front bar-cum-lobby, with Jo dancing through them kissing and cajoling. A barrier is put up to stop audience straying in to the theatre ahead of time, until five minutes before the performance (sometimes prefaced by a speech from the man himself) the gates are opened and the crowd pushes forward. No numbered seats, you see. |
None of this puts off the loyal audience, and it's fair to say that almost everyone connected to the arts in Brussels will have a 140 memory. Many of them will be at the birthday celebrations on 20 March when there's a DJ and dancing on the stage and Jo will be in his element. After all, this is a man who makes after-performance lobster bisque for actors and keeps them on-side with free champagne. His annual home-made lunches for press, then for teachers - where he launches the year's programme - are legendary. Forget modern marketing techniques and PR when a piss-up does the trick.
And whilst we're on the booze, the post-performance back bar deserves birthday recognition too. Hidden away through a door to the side of the auditorium, it's tiny red sign only lit during the applause, most of the audience miss it. Which means it's a bar for those in the know. It's theatrical, moody and one of the best drinking holes in Brussels where audience and artist can mingle and Jo reigns supreme, especially on first night.
The 140 gets under the skin. It's a place where performance art meets the people and where nothing is quite what it seems. And in all my years of being involved with theatre, I've never seen anything quite like it. Perhaps that's a good enough answer to why I can't miss celebrating its big Four-O.
© expatica.com